Consultation and Evaluations

Anne Donovan
Director, Consultation and Evaluation Services
508.653.6776 x299
Please contact us to request an evaluation:
Strength through collaboration is the guiding principle at the core of ACCEPT's School Consultation & Evaluation Services Department. We offer a variety of evaluation services to meet the needs of diverse student populations in public schools. Our team of expert evaluators work collaboratively with districts to determine the type of evaluations needed and produce high-quality, recommendations-oriented reports to help guide teams in supporting the whole child.
ACCEPT offers a variety of consultation services to build districts' capacity to service students with special needs. Our team of experts is available to provide student-specific or program-wide consultation. Our consultants have an average of 15 years experience, the majority of whom also serve as adjunct faculty and teach graduate graduate-level courses at local universities.
Our Services include: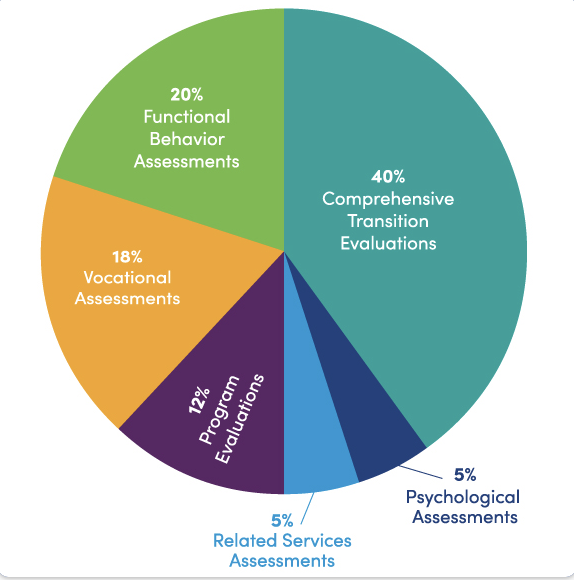 Program Evaluation Services
Special Education Program Evaluations: Autism, Therapeutic, and Alternative Education Programs
Student Assessment Services
Vocational Assessments
Transition Assessments
Functional Behavior Assessments/Trauma-Informed FBA
Psychological Assessments
Augmentative and Alternative Communication (AAC) Assessments
Speech/Language Assessments
Occupational Therapy Assessments
Physical Therapy Assessments
Highly qualified and experienced educators are available to work with schools on a short- or long-term basis. Consultation may include strategies to embed evidence-based interventions for specialized student populations, assessment methods, implementing specialized curricula, and development of behavioral supports. The individual needs of students and their classrooms determine the focus of these services.
ACCEPT also offers on-site, professional development workshops tailored to each district's unique needs. Our presenters have expertise in a wide range of topics in the field of special education and inclusive practice. Sample workshops include:
Functional Behavior Assessment: From Conceptualization To Practice
Registered Behavior Technician (RBT®) Training Course
The Nuts and Bolts of Transition Planning
DESE's Low-Income Education Access Project (LEAP) Training
How Do We Step Back? Fading Staff Support While Increasing Student Independence